It's taken awhile, but online business owners are starting to understand that the Learning Management System purchase doesn't guarantee the business success and it is just a half of the battle. Far more important is a unique idea, eLearning quality and the way online courses are built and organized.
Herewith, many eLearning business owners get frustrated by putting time and effort into creating online courses and seeing no outcome, zero students' engagement and motivation.
How to make e-learning work? How to build an effective e-learning course, what are the common misconceptions about e-learning and what e-learning trends do we need to watch? These are the questions we addressed to an EdTech & E-learning professional - Didem Yesil.
Let's turn to Didem so she can teach us how to build effective e-learning and overcome all the possible challenges.
---
What are the key characteristics of an effective e-learning course?
Based on research in the field of e-learning we know that an effective e-learning course has certain characteristics, however before talking about what these are, it needs to be noted that e-learning design starts with understanding the target audience well. It begins with analysing the learners and their context correctly. Who are they? What characteristics do they have? What are their learning needs and expectations? Contextual awareness is the first important step to take for a good e-learning design. This makes the course learner-centric, which ultimately helps us ask the right questions from the beginning: What skills and knowledge do learners in this specific context need to acquire? rather than "What do we want to teach?"

Content quality is absolutely the most powerful element in an effective e-learning. It is positively correlated with learner satisfaction in e-learning. Some of the questions we need to ask ourselves about the content are:

Is it constantly updated? Information outdates so easily in the digital world.
Is it varied and rich? Different types of media make the content both interesting and easy to learn. Integrate audio-visual material as well as text.
Is the course structure clear and coherent? A well-structured online course with clear objectives showing learners why they need to take the course and how they are going to benefit from it is key to success.
Is your content delivery style interesting? A study about the effects of video lectures on learning shows that integration of sense of humour into video lectures leads to better learning. Make sure that your style is not boring.

Interactivity leads to active learning. Besides, who would want to sit in front of a computer watching hours and hours of video content without actively doing anything? This might be off-putting for learners. There are now many web tools that can be used to make video content more interactive by adding questions, links or even discussions.

Interactivity in the form of social interaction is also a proven method in effective digital learning. When learners interact with each other in meaningful discussions or teamwork, they learn from each other and e-learning no longer feels alienating. We must also realise that social media is shaping the expectations of today's learners from learning environments. They are constantly exposed to news feeds, status updates, likes and shares, which create a world of endless interaction. Therefore, an effective e-learning design needs to take the target group's digital habits into consideration to make e-learning work.

Assessment & evaluation is another important element to think about in advance. This is generally done at the end of the course, which no doubt makes learning less effective. An e-learning course needs to offer opportunities for constant feedback from the beginning to the end. As in face-to-face learning, assessment & evaluation need to be aligned with the course objectives, which will help learners acquire the target skills and knowledge more effectively.
What are the common misconceptions about e-learning courses?
A lot of people think that e-learning makes learners feel alone, which is not true. The social side of learning can be easily facilitated through interactive tools in e-learning. Synchronous and asynchronous tools such as web conferences and discussion areas allow for interactivity between learners. Also, many online teachers use social media for educational purposes.

Another misconception is that e-learning is a degraded version of education and it is low quality. E-learning is used by an increasing number of people every day. Both educational institutions and public & private sectors choose e-learning as a recognized means of training and education. For instance, some European universities already started to award ECTS credits for courses taken on MOOC platforms. Online master's programs are becoming widespread worldwide and globally recognized.

Some people think that e-learning is the easy way of passing a course or a training. On the contrary, e-learning can be as challenging as traditional learning if it is designed well. Exams, homework and projects can make it just as challenging. Flexibility does not necessarily mean e-learning is less valuable and recognized.
What are the common challenges online teachers face and how to overcome them?
Technological know-how might be the first challenge that comes to mind of a beginner in online teaching. However, I believe that the biggest challenge is the mindset. One first needs to understand how digital learning and teaching work. Digital learning and teaching should not be confused with storing content in an LMS and expecting that everyone learns it on their own. Traditional teaching and online teaching are in fact two different worlds. Engaging and motivating learners in an online learning environment, giving them feedback, delivering a piece of content effectively, communicating and interacting with them online require entirely a different approach, tools and methods. To overcome this challenge, I would suggest taking an online course and seeing how it works for them as a learner. This will help teachers look at it from the learner's point of view.

Second, online teachers need to be aware of the technological tools available for online teaching, which would make things practical and lower the workload for them. For instance, if an online teacher is worried about the difficulty of bringing students together for a collaborative work, they must be aware that there are actually tools to do this like Google Drive. It might be a real challenge if they are not equipped with the necessary tool-kit in the first place. I would suggest following e-learning websites, blogs and some influential people in this field to observe how they teach online.

For those who want to create their own courses and sell them online, there are all-in-one online teaching platforms. In that case, the hardest question to answer might be "Who is out there for my course?" and "How can I reach them?". While there are platforms, which take care of the marketing for course creators, a lot of online teachers use their marketing skills to promote their courses. So acquiring these skills such as creating e-mail lists, using social media and blogging for more exposure can be quite helpful in attracting more students.
What are the key e-learning trends to follow in 2017?
According to a recent e-learning report, the rising trends for 2017 and the upcoming years are mobile learning, data analytics and artificial intelligence.

According to the same report, 87% of the digital natives say that their smartphones never leave their side, night or day while 80% of them say when they wake up the first thing they do is reach for their smartphones. Digital generation loves their mobile devices. So, the learning environments need to be mobile-friendly and reachable via all portable devices.

Data analytics is also a hot topic in the digital world. This also affects the education sector. Web technologies now allow for tracking learners' activities and collecting data about their learning behaviors in online environments. This allows for gaining useful insight into how people learn and interact with the course content and one another etc., which eventually helps us improve e-learning design and even personalise it based on each learner's needs.

Going hand in hand with data analytics, artificially intelligent systems are becoming more and more popular in the learning sector. There are already platforms offering adaptive and personalised learning systems such as the one developed by Carnegie Learning that makes Maths learning more efficient through learning analytics and reporting.
---
About the Author: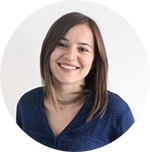 Previously an English teacher with 5 years of experience, Didem has been working as an EdTech & E-learning professional for the last 3 years since graduating from the EdTech & TESOL program by the University of Manchester. After teaching, she worked as the education coordinator in an e-learning startup in Turkey. She is currently coordinating an EU-funded e-learning project that aims to teach deaf & hard-of-hearing people sign language through e-learning.
She writes about e-learning & educational technology on her personal website www.didemyesil.com and on Medium.
Follow Didem on Twitter @didolores