In the JoomLMS blog we have recently published an article with a detailed comparison of the LMS solutions for Joomla! CMS. In case you've missed it, here is a link to JoomLMS vs Guru LMS vs King LMS vs Shika LMS article. In one of the comments we were asked to compare JoomLMS with the top WordPress Learning Management Systems.

Firstly, we didn't know whether it makes sense to compare Learning Management Systems that have completely different bases and are chosen by people who have either Joomla! or WordPress CMS installed but not vice versa. There are numerous advantages of such choice, like smooth integration, a familiar interface, you manage both the CMS and the LMS from the same Admin Area; you have a support team that knows your CMS etc. The list is endless.
On the other hand, there might be clients who search for an on-premise LMS based on the functionality required and don't see any problems of migrating an existing website to a new CMS or having a subdomain built on a different CMS.
If you are one of those, then this JoomLMS vs WordPress LMSs comparison is for you!
Joomla! vs WordPress
First of all, let's talk about Joomla! and WordPress Content Management Systems. Both CMSs are free, open-source and are constantly updated and improved by large communities behind them. If you type "Joomla vs WordPress" in the Google search you will get 2, 18 million results. Pretty long reading, right? The confrontation between Joomla! and WordPress CMS followers is always here to stay.
We can endlessly debate on the supremacy of Joomla! over WordPress and vice versa, but it is more rational to look at their purposes of usage: WordPress CMS is more user-friendly and easy to start working with, but it is more for blogging purposes; Joomla! CMS is more complex but it allows building multifunctional portals. Depending on the primary business goal you choose one or the other, no big deal.
Now, let's turn to our LMSs comparison…
Among the Top Learning Management Systems for WordPress there are LearnDash, Sensei and WP Courseware.
After a detailed research and comparison, it became clear that the tendency of Joomla! being more multifunctional than WordPress is also observed on the market of Learning Management Systems.
Broadly speaking, JoomLMS Learning Management System exceeds the functionality of the compared WordPress-based LMSs, but let's start one by one.
Course Creation
Since the nature of the compared LMS solutions is different, no wonder that they have completely different approaches to course creation and uploading the materials. In JoomLMS there is an embedded course builder and different sections for uploading SCORM files, documents, videos, audio or scheduling live sessions.
See how the course creation process looks in JoomLMS:
Gallery
In the WordPress-based LMSs course units are actually WordPress posts that you assign to one or another LMS course and indicate the prerequisites. Everything you normally add to WordPress posts can be added to an LMS Course.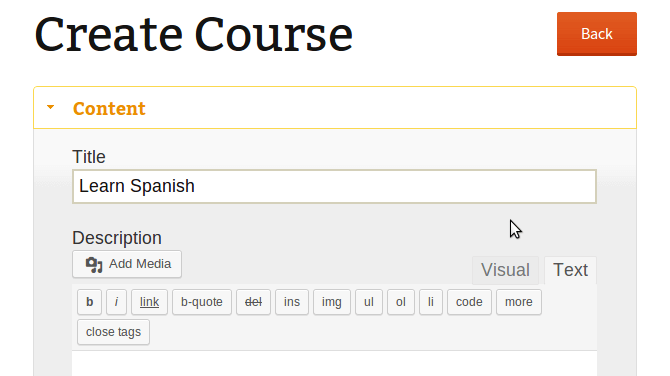 LearnDash Course Creation Page
None of LearnDash, Sensei and WP Courseware is SCORM and AICC compliant (if you are not familiar with SCORM usage benefits we recommend reading the What is SCORM? article). However, LearnDash allows uploading Tin Can content with the help of a paid plugin ($49). JoomLMS doesn't have such functionality yet, but it is on our roadmap.
If you or the teachers that will work with the LMS are not comfortable with creating courses at the Back End, then either select JoomLMS or purchase an extra add-on for LearnDash ($35). Neither Sensei nor WP Courseware supports course creation at the Front End but have plans for adding such functionality in future releases.
User Management
With regard to the user management functionality, the features in high demand are the following:
upload users in bulk;
create custom user roles;
create local groups inside courses to assign tasks to them;
set the maximum course attendants number;
add learners to waiting lists.
JoomLMS has all this functionality. LearnDash, Sensei and WP Courseware don't support some of the features.
For example, Sensei LMS won't let you upload users in bulk (a third-party plugin is required), create groups inside courses and set the number of seats inside the course (you can set an expiration date for your course access by means of Woocommerce membership plugin though ($149) or work around by integrating the Buddy Press Social tool, what is a good alternative by the way).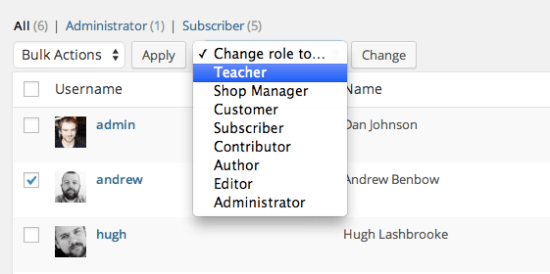 Sensei User Management
LearnDash LMS doesn't allow determining the number of students that can be enrolled in the course.
In the WP Courseware LMS there is no functionality allowing creating custom user roles or local groups and determining the number of course seats.
Course Tools
All four compared LMS solutions have a wide list of course tools for effective e-learning and training.
The compared LMS solutions have embedded quizzes with a repository of questions (question bank). The only difference is the variety of question types. JoomLMS has thirteen question types, whereas WP Courseware just four. See the comparison table below (question type names can differ from one LMS to another).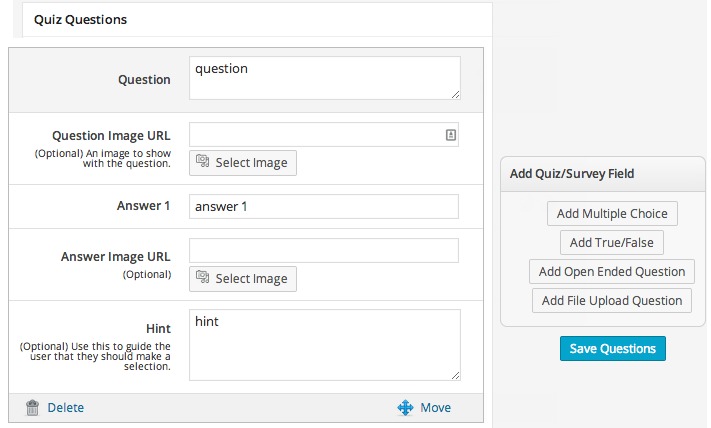 WP Courseware Quiz Creation Process
LMS Question Types Comparison Table

| Type of question/LMS | JoomLMS | LearnDash | Sensei | WP Courseware |
| --- | --- | --- | --- | --- |
| Multiple Choice | ✓ | ✓ | ✓ | |
| Multiple Response | ✓ | ✓ | | ✓ |
| True/False | ✓ | ✓ | ✓ | ✓ |
| Matching Drag and Drop | ✓ | ✓ | | |
| Matching Drop-Down | ✓ | ✓ | | |
| Fill in the Blank | ✓ | ✓ | ✓ | |
| Hotspot | ✓ | | | |
| Surveys | ✓ | ✓ | ✓ | ✓ |
| Likert Scale | ✓ | | | |
| Boilerplate | ✓ | | | |
| Matching Drag and Drop Images | ✓ | | | |
| Multiple Images Choice | ✓ | | | |
| Multiple Images Response | ✓ | | | |
| Essay Paste (file upload) | a separate section for uploading assignments instead | ✓ | ✓ | ✓ |
Also, all the eLearning solutions have an out-of-the-box system of email notifications and support integration with social platforms for a corresponding CMS.
As for communication tools, there is no built-in chat functionality in WP Courseware and Sensei, however, you can install third-party chat tools (both free and paid). LearnDash LMS allows creating course forums. In comparison with JoomLMS there is no built-in notification system with a calendar in the WordPress Learning Management Systems, however, it is possible to install third-party plugins for these purposes.
E-commerce Functionality
None of LearnDash, Sensei and WP Courseware has built-in e-commerce functionality and requires paid WordPress third-party shopping cart tools to sell paid courses, generate discounts, promo codes and issue invoices (additionally, LearnDash offers integration with PayPal and 2Checkout). JoomLMS, in its turn, has all the e-commerce features out of the box, what means no additional costs are required to start selling courses online.
Tracking and Reporting
Since the compared WordPress Learning Management Systems don't support SCORM, built-in tracking and reporting functionality in most cases comes down to displaying quiz results.
In LearnDash LMS there is no Gradebook and attendance tracking as such because it is not intended for live training; you can track enrollment and course participation, though. Default LearnDash reporting functionality can be enlarged by installing a paid ProPanel add-on to track course activity ($30).
There are free Sensei Extensions to track course progress and course participation. It is also possible to grade learner's quiz attempts manually.
In WP Courseware LMS Gradebook is the center of reporting. It provides information on which courses/lessons/quizzes have been completed. Additionally, there is a number of widgets that can be used to enhance the reporting functionality.
There is no opportunity to set custom grades in any of the compared WordPress-based Learning Management Systems; course progress is displayed in percentages.
What concerns JoomLMS LMS tracking and reporting functionality, there are special sections where you can track students' progress, quizzes, learning paths, downloads, access, completion and user grades statistics. JoomLMS is a well-suited solution for blended learning as you can check attendance and set grades both for online and offline activities. All the reports can be exported.
Certification
In comparison with JoomLMS that allows adding a bar code, a watermark and a serial number on the certificates, LearnDash, Sensei and WP Courseware are limited to uploading a custom background with a watermark or logo on it. Also, Sensei and WP Courseware don't allow you to award certificates to students who have successfully completed only a quiz, not necessarily a course.
Mobile App
Another JoomLMS advantage over the WordPress LMSs is Android and iOS compatible mobile application, opening the opportunities for mobile learning.
Gamification
What makes LearnDash, WP Courseware and Sensei compare favorably with JoomLMS is Gamification functionality. For example, the LearnDash and Sensei LMS vendors offer the BadgeOS plugin to award badges for course progress and completion (free for LearnDash, $19 – for Sensei). WP Courseware offers integration with the paid WPAchievements plugin ($21).
Pricing
At first sight, JoomLMS seems to be more expensive than LearnDash, Sensei and WP Courseware, however, when you dig deeper you will surely notice that to have out-of-the-box JoomLMS functionality, you need to purchase additional plugins and add-ons, which might make WordPress Learning Management Systems pricey.
Also, there are 2 important aspects to note: firstly, it is not possible to install JoomLMS on multiple websites. One domain=one license. The WordPress-based Learning Management Systems vendors offer subscriptions for multiple domains. The second one is that JoomLMS licenses are limited by the number of students you can enroll in a course. If there are not enough seats, you can either upgrade the license, or delete the users who have already passed the course. Please keep in mind if you need an LMS to be installed on multiple domains.
In conclusion
JoomLMS, LearnDash, Sensei and WP Courseware Learning Management Systems have different target audiences.
If you are a blogger, a consultant who has some experience you want to share with others by offering simple online courses or has a limited budget, then WordPress LMSs such as LearnDash, Sensei and WP Courseware can be a good alternative. Loads of already created posts or tutorials can be united into online courses, sparing you the long-term procedures of course creation. The Learning Management Systems are very flexible thanks to a number of third-party tools you can integrate the LMS solutions with.
If your needs are more sophisticated, you have a wide user database and hold to an opinion that an all-in-one LMS solution is more reliable than integration with third-party plugins then JoomLMS might suit your needs better.
And of course there are a number of exclusions. We recommend testing the solutions and contacting the vendors to ask whether the LMS solution suits your particular needs.
Disclaimer
The comparison was made based on the publicly available information on the LMS vendors' websites and demos in September 2016. The article is intended for simplifying the search process and is made more as a guide, not an exhaustive listing of the competitors' features. The views expressed in the article may not necessarily reflect the views of other LMS vendors. The LMS features can change in the course of time so we recommend checking the relevance of information at the official websites. If there is information missing or misleading, please get in touch with us and we will change it.
What to read next?
JoomLMS and Moodle Comparison [Updated]
JoomLMS vs Guru LMS vs King LMS vs Shika LMS
10 Reasons to Build Your ELearning Project With JoomLMS [Infographic]